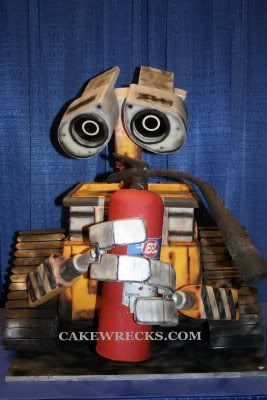 THAT, MY FELLOW WORSHIPPERS, IS NOT SOME RANDOM MODEL OF WALL-E. THAT IS. A. LIFE-SIZED. WALL-E MADE OF CAKE. YES, CAKE.
AND SINCE I'M LAZY TO UPLOAD TONS OF PHOTOS TO MY PHOTOBUCKET ACCOUNT--
HERE
FOR LAUGHABLE, VERGING ON HORRIFYING (SOMETIMES THE OTHER WAY ROUND) CAKES [HAHA GET IT ROUND CAKES]
AND
HERE
FOR UTTERLY GORGEOUS CAKES.
...WHO WANTS TO GIVE ME CAKE
ALSO WE ARE IN NEED OF A FANATIC FOR THIS RELIGION
SO WHO WANTS TO BE THE FANATIC?
Current Music:

Utada Hikaru - You Make Me Want To Be A Man (Utada United 2006)